SMART NETWORK TECHNOLOGY
Telematics offer different types of T-Light network technologies, depending on the particular layout of the streetlights in the urban or rural area.
The T-Light Family Includes:
T-Light Galaxy Network – a wide area network utilizing a single Base Station that covers an area of up to 20 km radius and monitoring directly up to 50,000 luminaries.
T-Light Pro Network – a robust multi hop RF Mesh network with self-configuring, self-healing capabilities. Provides local or wide area coverage.
T-Light LORA Network – streetlight controls utilizing LoRaWAN™ technology and forming an ideal IoT ready network for other LORA based sensors.
The T-Light family offers Smart Lighting Control and Monitoring Systems differentiated by their coverage, features, configurations, and prices. They also offer seamless scalability as the customer's needs change and expand, and may be applied where the light poles already have, or can have, a wired connection.
How it Works
The T-Light Smart Street Lighting Controlling system establishes a wireless network between all participating light poles and provides the operator with a web-accessed efficient, automatic or manual, control of the light pole's operation. The system can also be applied to a lighting system where the light poles already have, or can have, wired connections.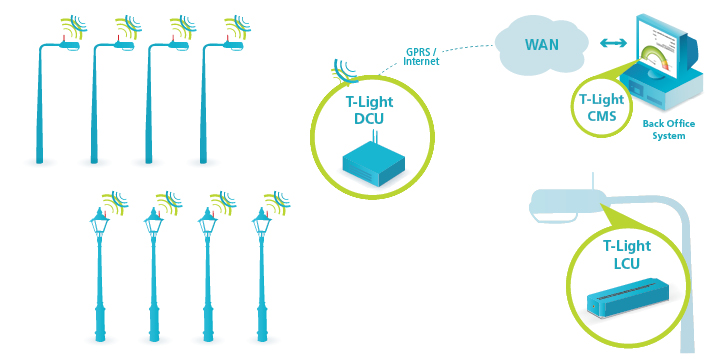 T-Light Smart Street Lighting Control System Diagram
The complete and reliable smart light solution features the following elements:
T-Light LCU, Light Control Unit, Light Point Controller, installed in each light pole, enables the transmission of information, and the reception of control commands for the luminaires. Read more details here
The information from and to the T-Light LCU is routed via the T-Light DCU, Data Communication Unit, and via the Internet, using 4G or Ethernet connections directly to the BackOffice application. Read more about the T-Light DCUs here
Bright City, a cloud-based BackOffice application, accessible at any location in the world–simply by using a standard browser, such as Internet Explorer, Edge or Google Chrome. You can read more on Bright City here
Additional T-Light units can be added to the system:
T-Light Cabinet Controller: Wireless Cabinet Control unit for monitoring and controlling devices installed in the cabinet, such as energy meter, I/Os, door open sensor, and more.
T-Light Add-ons: Wide range of optional features such as revenue grade energy meter; occupancy/motion sensor, and more. These add-ons enhance overall system capabilities.
T-Light Systems
The T-Light family offers Smart Lighting Control and Monitoring Systems differentiated by their coverage, features, configurations, and prices. All systems are flexible and modular to ensure solutions are specific to the customer's needs.
The T-Light family includes:
T-Light Galaxy
T-Light Pro
T-Light LoRa
T-Light Cellular LCU
These systems feature various configuration choices. They also offer seamless scalability as the customer's needs change and expand.
T-Light Galaxy
Recommended for controlling and monitoring multiple luminaire clusters, each with up to 50,000 luminaires.
Ideal for utilities, municipalities, college and university campuses, theme parks, and more.
Uses the powerful DCU-Galaxy gateway, which is installed in outdoor sheltered installations and controls a cluster of up to 50,000 luminaires.
Average coverage range per DCU Galaxy is 20 km radius (>1200 km2) and, if necessary, can be extended by repeaters.
Integrates into the Bright City with fully-featured management and control functionality.
Operates on a site-licensed frequency channel pair in 450-470MHz band as per FCC Part 90 regulations.
T-Light Pro
Recommended for controlling and monitoring wide area deployment, covered by multiple luminaire clusters, each with up to 1000 luminaires.
Ideal for towns, small campuses, business and residential complexes, large parking lots, and more.
Uses the powerful DCU-Pro gateways, which are installed in outdoor sheltered installations (e.g. in a cabinet controller or on a lamp pole) and controls a cluster of luminaires.
Integrates into the Bright City CMS with fully-featured management and control functionality.
Communications between the DCU-Pro and Bright City utilising Internet or VPN; optional – cellular Internet or cellular VPN.
Uses an unlicensed frequency and RF mesh topology for exceptionally robust wireless communications between the LCUs and the DCUs.
T-Light LoRa
LoRaWAN is an open protocol standards driven by the LoRa Alliance. A proven and popular technology in the Low Power WAN (LPWAN) arena, LoRaWAN has been designed from ground up to optimize LPWANs for IoT applications that require long range, low power, high capacity and low implementation cost. LoRaWAN is based on chirp spread spectrum (CSS), an advanced spread spectrum modulation technology which has been used in military and space communication for decades because of its long range and robustness to interference.
LoRaWAN™ networks typically are laid out in star-of-stars topology in which gateways relay messages between end-devices and the central network server at the backend. Gateways are connected to the network server via standard IP connections while the end-devices use single-hop LoRa™ communication to one or many gateways. All communication is generally bi-directional, although uplink communication from an end-device to the network server is expected to be the predominant traffic.
In a LoRaWAN, end nodes are not associated with a specific gateway. Instead, data transmitted by a node is typically received by multiple gateways. Each gateway will forward the received packet from the end-node to the cloud-based network server via some backhaul (e.g. LTE 4G). The intelligence and complexity is pushed to the network server, which manages the network and filters redundant received packets, performs security checks, schedules acknowledgments through the optimal gateway, performs adaptive data rate, etc.
T-Light Cellular LCU
Recommended for deploying localised WIFI communications in wide-band smart city applications, such as cameras or public internet access.
Ideal for parks, public spaces, parking lots, campuses, and more.
Contains an LTE modem that communicates directly to internet – no gateway required.
Provides localised WIFI access, configured for the clients needs (e.g. public/private networks, or both).
Integrates into the Bright City CMS with fully-featured management and control functionality.
Can also be used as an affordable option to provide control and management to street lights outside the reach of an RF network, e.g. a small, far away town in a district with only a few street lights.
T-Light Galaxy – one platform, many applications
Single Base Station for wide area coverage with tens of thousands of managed nodes is a central part of Galaxy system. Utilizing same communication infrastructure and various types of sensors and actuators, Galaxy applications include Streetlight Control, Water Resource Management, Advanced Metering Infrastructure, ITS and others.
Roadway lighting control – T-Light™
Up to 30 kilometers coverage per base station
50,000 fixtures per single base station
Self Commissioning (GPS)
DALI & 0-10V support
NEMA "twist & lock", In-pole configurations
105 – 480V options
ITS
Vehicle recovery system
Water resource management
Distribution system metering and control
Leakage detection & Location
Water Quality monitoring
Wastewater monitoring
AMR/AMI
Smart Grid
Electrical power meter
Sub metering solutions
Minimal infrastructure in the streets
Galaxy's unique feature is the minimal infrastructure required to cover large areas. Unlike most competing solutions, Galaxy does not require a large number of Concentrators and Gateways.  With an average coverage radius of about 10km in urban terrain and up to 30km in rural terrain (depending on terrain), the Galaxy Base Station with a single antenna communicates directly with up to 50,000 wireless nodes. Augmented with small wireless repeaters for coverage of dead zones and range extensions, Galaxy is the most reliable and cost effective solution available today for immediate deployment. In certain areas where Galaxy reach may be limited, another Telematics' system utilizing extremely robust RF Mesh technology can be deployed. Thus unique combination of wide area Galaxy and "local" cluster type RF Mesh will provide the optimal and unmatched solution for any municipality.
A zero hierarchy ("Star") control system
Galaxy utilizes a robust "Star" topology, which is especially suited for a relatively large number of end points within the coverage area. The "Star" topology avoids inherent Multi – Hop availability and latency issues often encountered in Mesh solutions,  by creating a direct link between the base station and the end unit thus improving system availability and reducing interdependency (increased fault isolation) among the network nodes – an important feature for a critical service.  These characteristics make the Galaxy Star topology the ideal solution for a large scale deployment containing thousands of end points that must be controlled and monitored individually.
A correct choice of wireless media
It is not only availability and cost effectiveness that makes T-Light Galaxy the optimal choice for wide area control and monitoring. Unlike the majority of competing wireless M2M systems that utilize unlicensed frequency bands, Galaxy operates in a licensed frequency band. No more operating in highly congested, interference-saturated frequency bands with regulation-limited low power output. Unlicensed bands are dedicated for short range communication and their utilization for wide area coverage is not only complicated, but may not be reliable enough for applications requiring high communication reliability and robustness like control of critical municipal infrastructure.
Galaxy's operation on a licensed frequency with exclusive dedicated frequency channels and increased transmission power ensures extremely reliable and uninterrupted communication over long distances. Due to the specific nature of applications that do not require large amounts of data to be transmitted to and from the end device, very narrowband channels are sufficient for Galaxy operation thus making the licensing cost negligible compared to the significant financial advantage of Galaxy deployment, operation, and maintenance.
Read More about Telematics' Network Technologies